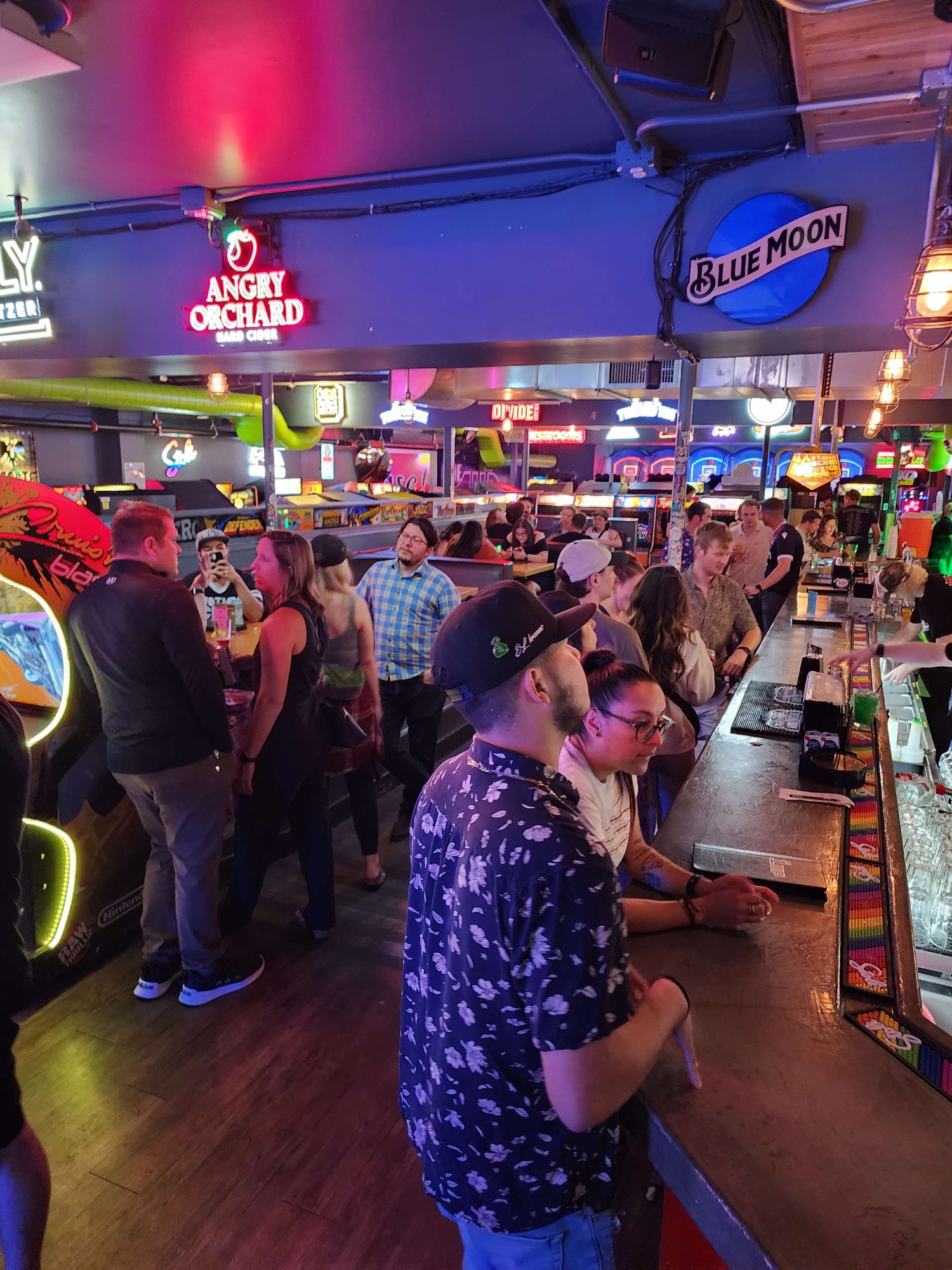 BOOK YOUR PARTY AT THE 1UP ARCADE BAR!
We are thrilled that you are interested in The 1UP Arcade Bar! It would be our pleasure to assist you in celebrating any occasion! You and your group are always welcome at either bar, no reservations required. However, if you would prefer a more formal arrangement, we are currently accepting reservations at The 1UP Greenwood Village, The 1UP LoDo, and The 1UP Colfax exclusively for parties of 15 people or more!
The majority of our seating operates on a first-come, first-serve basis. However, if you would like to reserve a booth, we kindly request a minimum spend of $200 per reservation along with a minimum notice of 48 hours. Our booths provide an excellent home base for your party and allow for convenient food service, while your guests can enjoy exploring the arcade.
As a true vintage arcade, we pride ourselves on offering games that reflect our commitment to authenticity. Experience the thrill of classic arcade games and Skee-ball lanes, all for an unbeatable price of 25 cents per game. Our pinball machines provide an added level of excitement for just $1 per game. With two change machines conveniently located on-site and access to ATMs if needed, your gaming experience is hassle-free. Discover your favorite game through our virtual tours today!
Looking for a catering solution that will impress your guests? Look no further! Our party platters, available exclusively at LoDo and Greenwood, are packed with delicious appetizers that will leave everyone satisfied. The best part? We offer these platters at no additional cost for reservations or large groups. And don't worry about breaking the bank on drinks, because our prices are simply unbeatable!
If you have any more queries that need a solution, just holler! We're here to assist you in making your party an absolute blast!
Full Buy-Out Info
Based on 150 people
$6900 flat fee + $42 each person over 150
Open Bar
Game Play and additional menu items are extra
The arcade/bar will be open only to your group
We normally do buyouts Monday - Thursday for 3 hours at a time
Friday and Weekends may work depending on the time of day, but it doesn't hurt to ask!